A Type-R LSD the Matsui Spec
Model # HFC8791T-SPL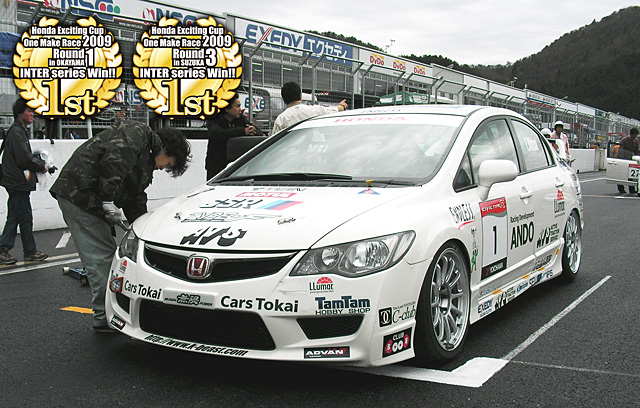 Equipped to Mr. Matsui's Civic FD,
the ATS Type-R LSD made a spectacular debut winning the first round of the Civic Inter Series at Okayama International Race Track.
The LSD uses the S Type (Silent type) plates which are used for our Super Silent LSD. The cam ring is a one way with a 70 degree angle with the initial torque set lower than a standard LSDs.
● The plates have a throw-through oil design which was born from extensive research and development by ATS engineers.
● The throw-through oil design maintains the oil film on the surface of the plates minimizing the fluctuation of oil temperature and friction coefficient.
● The surface asperities of the plate are minimized to the utmost limit to eliminate the time lag from free position to the locking position
● A One-way cam assures a minimum dragging effect on deceleration, which makes it easier to stay in the targeted racing line.
● Abrupt locking of the differential is eliminated by the excellent combination of plate properties, initial torque, and the cam angle. Thus a driver can try daring throttle control maneuvers.
| | |
| --- | --- |
| Specification | |
| Classification | ATS Metal LSD type R - Matsui Spec |
| Application | Civic FD Type R |
| Model number | HFC8791T-SPL |
| Number of the plates | 20 S type (Silent type) |
| Cam ring | One-way Cam, angle 70 degree |
| Initial torque | 8kg-m |
| Price | $1,595.00 |
* The cam angle can be changed to a 45 or 55 degree angle by rearranging the cam rings.
* Mr. Matsui uses a Motul LSD oil 75W-90
A similar spec can be created for other Honda FF vehicle. Please refer to us for more information.

Honda Exciting Cup Civic Series (FD2 Civic one make race)
Mr. Matsui won the championship status in the 2010 season, two consecutive years. Congratulations to Mr. Matsui.
There are not many modifications you can do in the Honda Cup Civic Series (FD2). LSD is one of the few choices the drivers can make and the selection is extremely important. Attached is the result of Civic Series 2010. ATS supported drivers with ATS LSD dominated the series.
Click her for the 2010 result
Team Motul DC5 in New Zealand also uses this LSD -
pic in the gallery section
The original D20 based Matsui special has been discontinued.
The new successor is Type-D24 with 1 way cam set at 70 degree.
Click here for the information on Type-D24.