26 Degree 1.5 way Cam
(for 109mm diameter carbon / carbon hybrid LSD)


For a faster lap

This 26 degree cam rings combined with a higher initial torque and with carbon discs produces a significantly faster lap time.

As we wrote in the LSD basics section, the cam angle determines the throttle response and a higher cam angle produces a better throttle response. Therefore, it might be counter intuitive that this relatively low cam angle improves your lapping time. However, this is true and is backed up by the test data with 9 vehicles for the last one year. You will be surprised how well it works on a road race and time attack.

Unfortunately this cam angle does not work for all the applications. Here are the conditions. (this could change in the future)

1 The cam has to be used with either ATS carbon LSD or ATS carbon hybrid LSD with a high initial torque.
2 The initial torque of the LSD has to be higher than 20kg.m They should be between 20kg.m and 30kg.m
3 The diameter of the disc is 109mm
4 This cam does not work well for FF and 4WD. Currently the benefit is limited to FR and MR vehicles.

Secret of the improvement
1 The stability from the high initial torque eliminates the fear of the brake oversteer.
2 Your braking point becomes deeper into the corner
3 Carbon / Carbon hybrid causes little understeer going into a corner
4 The 26 degree cam reduces the power oversteer during the acceleration. The driver can apply the full throttle quicker.
5 Carbon / Carbon hybrid accepts steering input during cornering

Please refer to our leaflet with Mr.. Kinoshita's comment- Click here


Pricing
* New LSD order. Add $75 to the price of carbon LSD or carbon hybrid

* Cam ring only. $268 + air shipping from ATS Japan. You have to disassemble the LSD, replace the cams and increase the initial torque by adding shim(s). One 0,2mm thick shim is $15

* Or you can send your LSD to ATS Japan for the conversion.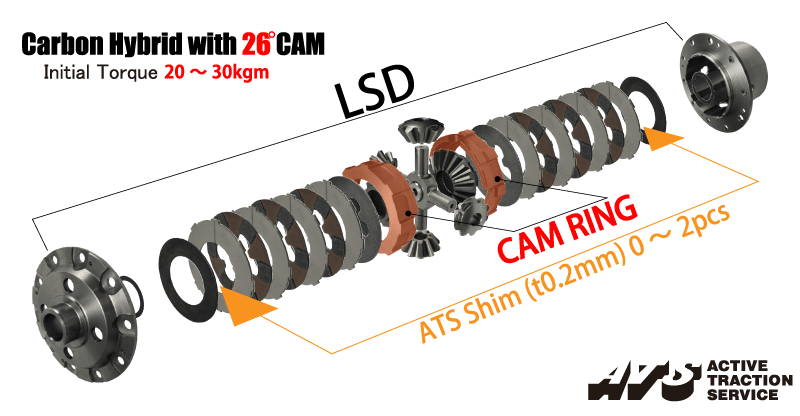 You add shim(s) between the coned shape spring and the closest disc. An installation by a professional shop is recommended.