ATS Full Carbon Cluthes


Simply Stunning - capacity, durability, and strength
Single - 800hp, Twin - 1,500hp, Triple - 2,000+ hp
After more than 10 years of research and development, ATS Full Carbon Clutch is finally ready for the market. With an unprecedented torque capacity, ATS has eliminated the concern of disc deformation during drag, endurance, sprint races, and drifting competition.
Full Carbon Clutch Features
1) Materail All the friction discs and the pressure plate are made of CC composite. The cover and flywheel are not made of carbon.

2) NO Warping Extended slipping of the clutch does not cause disc and flywheel warping / deformation.

3) Capacity Compared to the standard carbon clutch (with floating disc and pressure plate are metal), the capacity is 30% to 100 % higher. The single full carbon clutch is rated at 800 hp to 1,000 hp.

4) Product life Excellent durability. The disc wear and tear is limited to minimum.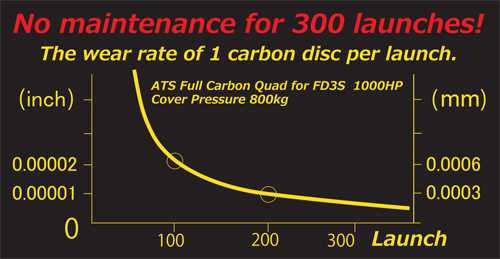 5) Strength Outstanding impact and shock resistance. ATS full carbon clutch withstands tough drag race launches.

6) Easy to drive train By absorbing the launch load at the engagemnet, the full carbon clutch protects your vehicle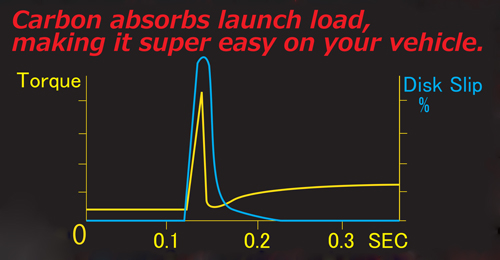 7) Very easy half clutch (slipping) operation and smooth engagement

8) Available in single, twin, and triple. (Depending on a vehicle model, the triple is not available)
* Currently all the full carbon clutches are made to order. It will take about 3 month to manufacture. The application is same as the standard ATS carbon clutch.
Why the full carbon?
The carbon disc withstands the very high heat but the metal disc and pressure plate tend to warp under the extreme heat. Even though our standard carbon clutches provide enough capacity for most of the drivers, the extended use of slipping of clutch at drag racing or drifting proudces too much heat from the carbon discs and the heat tend to warp / deform the floating metal disc(s) and pressure plate. Shortly the warped discs will result in a disengagement problem. (shifting becomes difficult). Our full carbon cluthtes have eliminated that problem.
If your driving style requires slipping the clutch frequetly, enjoy the trouble-free race with our full carbon clutch.


Triple Full Carbon Clutch

* Clamping force 1,350kg
* 9 carbon discs (diameter 227mm)
* Rated horse power 2,000+ HP
* Price $11,027 (including shipping to the U.S),


Twin Full Carbon Clutch

* Clamping force 1,350kg ~ 1,650kg
* 6 carbon discs (diameter 227mm)
* Rated horse power 1,500 ~ 1,700 HP
* Price $7,857 (including shipping to the U.S)


Single Full Carbon Clutch

* Clamping force 1,350kg ~ 1,650kg
* 3 carbon discs (diameter 227mm)
* Rated horse power 800 ~ 1,000 HP
* Price $5,736 (including shipping to the U.S)
C&Y Sports Drag Carina

In September 2014, ATS triple full carbon clutch was tested on the drag strip in Sendai Highland by C&Y Sports Drag Carina. After 15 runs, the each disc was worn out by only 0,01mm, which implied the very long product life. One shim would be required as the first maintenance after about 500 drag runs.

Picture of the carbon discs after the test - click here