ATS Pull Type Clutch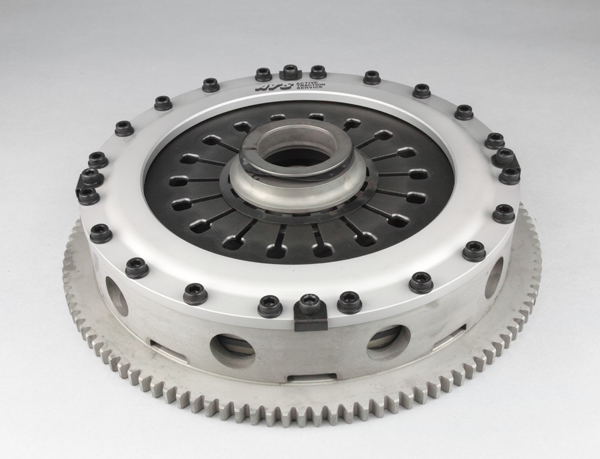 Are you sick of heavy pedal effort or harsh engagemnet of performance pull type clutches?? With the world wide patent pending "Double Action Release mechanism", ATS has shattered the conventional pull type clutch concept.

* With theh unique Double Action Release Mechanism, the new pull type cluthces provide an incredibly easy operation for both street and race track.
* Clutch pedal effort is 11kg to 12kg which is slighlty lighter than stock
* The clutch engagement point is in the middle of the pedal stroke and there is not much difference from the stock organic clutch
* Compared to the conventional pull type clutch, the ATS pull type gives the driver a wider engagement (slipping) point for much easier launch
* Crisp and very sharp disengagment
* It comes with ATS wedge collar and you can use the stock throwout bearing (except for Evo 10 for which requires the Evo 9 stock throwout bearing)
Four Excellences
1) Excellent pedal effort (very light)
2) Excellent clutch engagement
3) Excellent shift feel (quick and crisp)
4) Excellent price (very economical metal clutch)
Torque / Horsepoer capacity
The pull clutch has 1,300kg clamping force. ( A higher clamping rate might be available next year).
| | | |
| --- | --- | --- |
| | Carbon | Metal |
| Twin | 740 HP / 78 kg.m | 570 HP / 60kg.m |
| Triple | 1,100 HP / 116kg.m | 840 HP / 91kg.m |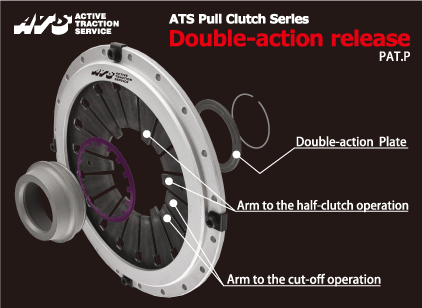 Double Action Release (world wide patent pending)
It is a unique activation system invented by ATS. A high performance clutch tends to ose a crisp engagement when the emphasis is placed on the softer/milder engagemnet with extensive use of slipping the clutch. On the other hand, a clutch aimed for a sharp and crisp engegemnet often is very difficult to drive on the street due to an on-off type engagement. ATS has solved this performance dilemma by introducing the double action release mechanism.
The diaphragm spring for the new pull clutch has 6 long fingers and 12 short fingers. When disengaging a clutch (when you are pressing the clutch pedal), the long fingers are first pulled and then short ones follow. At around 70% pressing the pedal, all 18 fingers are pulled and the clutch provides a fast / crisp shift. When the clutch is engaging, the reverse takes place. The short 12 fingers are released from the bearing first and the remaining 6 long fingers generates an ideal slipping and mild engagement.
Furthermore, this new system offers a better disengagement performance at a very high rpm. It reduces the shifting time at high rpm significantly.


please click for the application list



| | |
| --- | --- |
| Current appliaction | |
| Mitsubishi | Evo 4-10 |
| Subaru | GC8/ GDA 5 speed & GDB 6 speed |
| Mazda | RX7 FD3s |
| Nissan | GTR 32, 33, & 34 |
| | |
| | |

Converting a push type to a pull type.
You need 1) Pull type clutch cover ASSY, 2) Pull Connector, 3) Pressure plate, 4) Cover to casing bolts.
In addition, you need to remove the pull - push conversion mechanism. Here are the kits for the conversion..
| | | |
| --- | --- | --- |
| Application | Parts number | Price |
| Evo 4-10 Twin | R7A2B-10 | $645 |
| Evo 4-10 Triple | R7A2B-11 | $586 |
| Subaru GC8 / GDA / GDB Twin | R7A2B-12 | $653 |
| Subaru GC8 / GDA / GDB Triple | R7A2B-13 | $605 |
| GTR 32/33 Twin | R7A2B-14 | $645 |
| GTR 32/33 Triple | R7A2B-15 | $586 |
| GTR 34 Twin | R7A2B-16 | $653 |
| GTR 34 Twin | R7A2B-17 | $597 |
| Mazda FD3s Twin | R7A2B-18 | $645 |
| Mazda FD3s Triple | R7A2B-19 | $586 |